This Week's Haul:
Forty Coffins ($3.99) – OUR BOOK OF THE WEEK!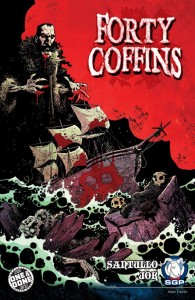 Writer:
Rodolfo Santullo
Artist:
Jok
Letterer:
Jacob Bascle
Genre
: Horror
It's Kind of Like:
John Carpenter's The Thing
on a boat.
The Premise
: A mysterious second mate. A hull full of worthless cargo. A disappearing stowaway. The crew of the
Demeter
has its fair share of problems—and that's
before
people start disappearing.
100-Word Review
: ComiXology Submit is full of great horror books, and you can add
Forty Coffins
to the list. Jok's art evokes Gabriel Rodriquez's moody work on
Locke & Key
(if you've read
Locke and Key
, you know that's a compliment), and while Santullo's writing isn't quite up to Joe Hill's standard,
Forty Coffins
offers a haunting and action-packed look at an entire crew's descent into madness. If you're up on your classic horror, you know where
Forty Coffins
is going—but instead of ruining the surprise, this foreknowledge makes the
Demeter
's journey towards its inevitable fate all the more chilling.
Buy it here.